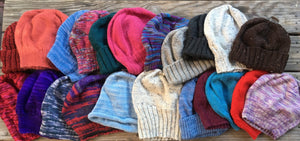 Knit Your First Hat with Elizabeth Durand (9/30/23 1:30 PM)
Regular price
Sale price
$60.00
---
You have mastered knitting and purling, and if you don't see another scarf for 5 years, you will be very happy. But – you don't know what to do next. Let's knit a basic hat in the round, on circular needles. You won't finish in class, but you will get well underway, and every technique you will need to finish the hat at home will be demonstrated.
Date/Time: Saturday, September 30, 2023 1:30-4:30 pm
Supplies:
Elizabeth will provide a pattern for a basic watch cap style hat for this class. This style features a ribbed brim that folds up double, with the rest of the hat worked in plain stockinette. If this does not appeal, you can bring any of the following patterns (all of these are free):
One 100g skein smooth worsted weight yarn.

A 100g skein will have 200 to 220 yards. A light or bright color is better for your first hat than navy or black, but if your heart is set on one of those dark colors – it's always best to make what you want.
Self-striping yarns are fine. Yarns that are good choices include Paton's Classic Worsted, Galway worsted, Malabrigo Rios, Berroco Vintage (worsted weight), Plymouth Encore, Kelbourne Germantown, Lion Brand Wool-Ease, Cascade 220, or Kraemer Perfection Worsted.
There are many options, but using a yarn that has at least a little wool content is recommended. (Cotton is not a good choice.)

One 16-inch circular needle in the size you need to get 18-20 stitches over 4 inches with your chosen yarn, and another 16-inch circular needle two sizes smaller than that.
You will ultimately need a set of double-pointed needles in the same size as your larger circular needle, but we will not reach that point in class.
Standard knitter's toolkit items: scissors, sewing-up needle, a small crochet hook for picking up dropped stitches, stitch markers, tape measure, a pen or pencil, etc.
Homework:
If your yarn needs to be wound into balls before you can knit with it, please do that before you get to class.
Make a gauge swatch to figure out what size needles you will need to get 18 to 20 stitches over 4 inches (10 cm).

We often recommend swatching in the round when contemplating a project that will be worked in the round, but for this one you can work your gauge swatch flat.
Please note: you cannot assume you will need size 7 needles because that's what your friend's gauge swatch says. Everybody is different. Start swatching using the needle size recommended on the label of your yarn, but be prepared to go up (if you have too many stitches per inch) or down (if you have too few stitches per inch) a needle size or two.
Skill Level:  Confident Beginner: Beginner level skills plus increase, decrease, and follow simple patterns.
Elizabeth Durand